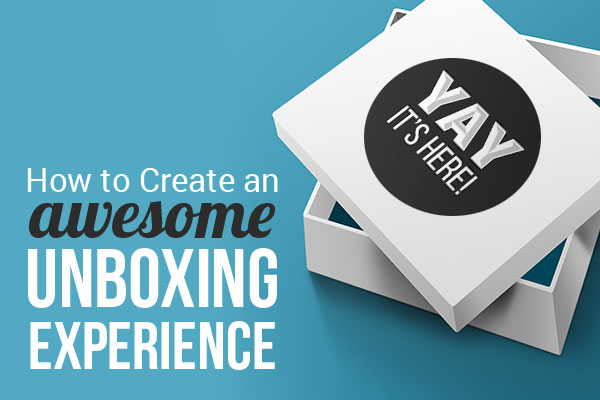 Creating a Memorable Unboxing Experience
When you think about starting an eCommerce store, whether a dropshipping outfit or your own branded product line, you likely think about customers receiving your products and using them.
If your product meets their needs, you can reasonably expect a favorable review. But did you know that your customers can be predisposed to like or dislike a product once it arrives but before they even touch it?
This truth is the essence of the unboxing experience.
What is the Unboxing Experience?
The unboxing experience is the moment that your customer removes the product from its packaging.
It's a little bit like opening birthday presents in a way. Your customer ordered something, but they have never touched it. They have never interacted with it. And for this particular product, they've never seen it. The unboxing experience is the first time they will be able to see their new product – and making this an experience will increase favorable sentiment and disposition towards the product.
Consider this: on your birthday, if you ordered a particularly awesome RC car, would you rather someone simply hand you the RC car, or would you rather have it wrapped up in a box with a bow on it? Many people strongly prefer the latter.
Benefits of a Remarkable Unboxing Experience
Increase Customer Happiness and Brand Recognition
Most unboxing experiences are ho-hum. You order a product from a website and the product arrives in a nondescript box with nondescript packing materials. It's certainly not delightful. But contrast this with luxury purchases – the "little blue box" associated with a Tiffany engagement ring. The deep red bag and ornate packaging of a Cartier watch. Not only does this drive brand recognition, but seeing the branding in advance can trigger almost Pavlovian reactions from your customers. They will be visualizing and fantasizing about your product just by seeing the packaging.
Maximize Customer Loyalty and Increase Sales
People ultimately return to places and people they can trust. Assuming two products and prices are equal, which is not an unrealistic assumption in the increasingly competitive world of eCommerce, it can often be something as simple as a stronger initial impression that earns repeat business.
Raise Social Proof and Encourage Social Marketing
As I mentioned in the preceding section, people frequently return to experiences and brands that they can trust. With brick and mortar stores, the trustworthiness and dependability of the institution is often readily verifiable; you can walk in, see the product, pay the cashier, and walk out the door with the product in hand.
With eCommerce, the process is somewhat different. You have to take on faith that once you pay, you will receive the product. This leap of faith makes many would-be customers lose heart and abandon their cart.
However, if you link to customers unboxing your package, or if your unboxing experience is unique and memorable enough for people to take photos or videos of it and share it on social media, then you've implicitly addressed many customers biggest fear: you've demonstrated that you do, in fact, ship the product. At this point, customers know they can buy from you in faith.
Furthermore, your customers will be able to share their experience online. Unboxing videos are immensely popular on Youtube. Searching for "Unboxing Videos" yields 68,000,000 results!
If your experience is memorable enough, you might find bloggers and influencers who are willing to showcase your unboxing experience, which can serve as an additional marketing outlet to grow your customer base!
How To Create the Perfect Unboxing Experience
There are a variety of questions to ask yourself when you design the unboxing experience. Like many components of eCommerce, the more intentional the experience, the more impactful it can be for your customers.
How Do I Want My Customers to Feel?
What feelings do you want to evoke with your unboxing experience? If you are selling upscale jewelry or fashion, you might want to consider typing a satin ribbon around the box. You may choose to line the interior of the box with suade or a similar material. On the other end of the spectrum, if you are selling beer enthusiast paraphernalia, you might include a "welcome to the club" card to induct them.
What Do I Want My Customers to Know?
Instruction manuals and explicit support information – along with any warranties that require registration – should be included in the overall experience. You will want to ensure that once the customer completes the unboxing experience, they will be ready to meaningfully engage with their new product.
What Do I Want My Customers to Do?
Be strategic with this opportunity to have your customer's full attention. Using a strategic "Call to
Action" will enable you to promote other aspects of your brand or special events. Through this call to action, you can promote your company's social media channels, a loyalty program, or an upcoming event. An easy way to increase engagement on a social media contest can be as simple as including a card with clear instructions to "(1) Snap a photo of your new <<insert product name here>>, (2) Share with friends on Facebook or Instagram, and (3) Use hashtag #iLove<<product name>> to be entered to win!"
Components of a Product Unboxing Experience
Outer Product Packaging
Very few companies have branded outer packaging, and yet this is perhaps the most important components of the unboxing experience, because it is the very first interaction your customer will have with your product. Try to choose an appropriately sized outer package.
Product Package Inserts
It's very easy to go overboard with inserts. Err on the side of "less is more" with package inserts, because while inclusions like sign-up cards and promotions can fit with your brand and enhance the unboxing experience, it is also possible and perhaps even likely that excess peripherals will distract the customer from the product itself.
Inner Product Packaging
Packaging transcends functionality – your inner product packaging should show off your brand and the product prominently. Utilizing your brand colors, slogans, and value propositions on your inner product packaging to create an experience that flows cohesively, leading to…
The Product
Finally, you want your product to be highlighted front and center after the layers of unboxing have been completed.
Next Steps
Now that you are primed and educated on the unboxing experience, you probably have your own ideas about how you would like to implement these techniques for your customers!
The one downside to unboxing experiences is that they require packing materials, labor, and scale. If you are handling a relatively low order volume per month (under 60 orders per month), you should be able to handle unboxing in-house. However, beyond that point, you may want to consider partnering with a fulfillment company to maximize impact and spend more of your time focusing on your brand and enhancing your customer experience as opposed to rote fulfillment.