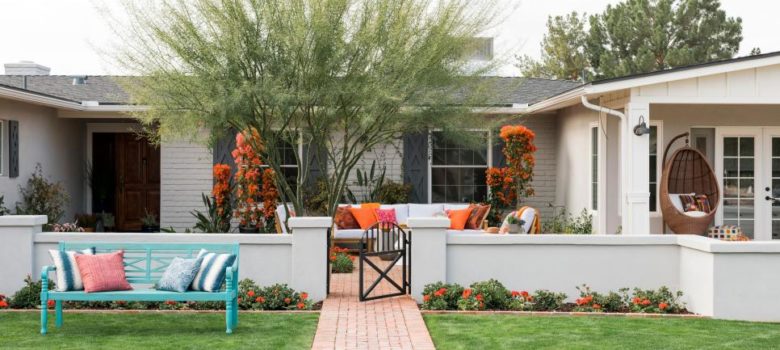 Get Outside: Fun Projects to Help You Enjoy Your Outdoor Spaces
If you recently bought a home with some land, or are building a house, you've probably been too caught up in the inner workings of your home (the renovations, remodeling and unpacking that seem to go on forever) to worry very much about the outdoor space and land.
But as we ease into the warmer Spring months and into summer, you may find yourself spending more and more time outside and considering all the things you'd like to do with your land.
Cultivating your land and making it into a beautiful, relaxing and functional space is so much more than just mowing the lawn and planting a flower or two. Having a nicely groomed and functional yard can drive up your property value, make the entire street look nicer, and provide you with spaces to enjoy time with family and friends. Taking the time and spending a little money to make your land/yard into something gorgeous is well worth it.
Below, we've listed a few ideas for those with a little extra outdoor space, to really up the ante on your property.
Gardening
Most folks, when they hear the word "gardening" think of a few rows of pansies and maybe a rosebush or two. Not enough people throw themselves fully into gardening, and they should! Gardening is a rewarding and beneficial practice, and it'll result in more than just a few flowers.
If you have the space on your property, why not consider planting a vegetable garden? Most plants, seedlings and seed packets are affordable and easy to raise (start with peppers and tomatoes), and produce a bountiful harvest if you care for them properly. Other easy to grow vegetables include squash, cucumbers, and even corn!
If you don't have the space or the time to do a huge veggie garden, you could always have a smaller herb garden with just a few essentials like basil, oregano and parsley, or just a lovely flower garden to take a turn in around the patio. Pick plants and flowers that are easy to tend and don't require a ton of prunage or finicky care. Plant an inexpensive fruit tree or two on the property (blueberry and fig are both quite easy to grow and rather hearty), which will not only add some beauty to the place, but will bear fruit in a year or two.
Even just a carefully placed shrub or bush surrounding your home can add a little polish to your yard and attract beautiful butterflies, giving your outdoors some lovely atmosphere.
Swimming Holes
Many people, when dreaming of owning a home, dream about that luxurious swimming pool or having a peaceful lake or pond to go fishing in in summer. Whether you're more of a naturalist who prefers a lake or pond, or someone who enjoys the more modern luxury of a pool, both are more affordable than you think (and when well-maintained, both can up your property value, too).
Both in-ground pools and above-ground pools have gone down in price in recent years, and you're likely to find a pool store/supplier in your area pretty easily. These companies can guide you through the entire process, doing most of the work for you. Pools range from the elaborate to the very simple, so whatever you have in mind, you're pretty much set. It's all about picking the right area of your property to set things up. Avoid putting a pool under a tree that sheds leaves often in the fall, or you'll have a mess on your hands when it comes time to clean up. Invest in good materials like a tarp/pool cover, pool vacuum, nets, and more.
Pond construction or lake construction can also be a snap if you hire the right company. They'll come out and help you find the best location to dig a pond or lake on your property, and get right to work. In most cases these companies can also do work on existing ponds or lakes that need a little TLC. Definitely don't attempt to dig a pond or lake yourself, or hire a shoddy company to do so – there is a lot more to pond/lake planning than just digging a hole with a basic excavator. You need someone who is experienced, with knowledge of how to properly construct a pond or lake so that it continues to hold water, is safe and stable.
Hire a great company to help you get set up with your pond or lake and you'll be out on the dock fishing to your heart's content in no time at all.
Play Areas
If you have children, you may have thought about setting up a play area/playground/treehouse for them. This is a great idea; getting children outside to play in the fresh air is so beneficial to them. Of course you want to construct a play area that is as safe as it is fun.
There are lots of DIY ideas online that can guide you in the process of building playhouses, treehouse, and more elaborate setups. If building it yourself isn't your thing, you can always hire a builder or even buy ready-made kits online that only need a bit of assembly once they are delivered. It all depends on your vision and your kids' needs.
The main thing is that whatever space you build/assemble for your kids is completely safe and up to standard. And we know you'll make sure of that.
Fencing and More
Whether it's for privacy, or because you just like the look of it, installing a nice fence around your property raises the value of your home while protecting your family and looking sharp. Fencing doesn't have to be insanely expensive, either. There are many companies that provide very affordable, durable fencing that can be assembled easily.
Other embellishes you may wish to add to your property include railings, decks and porches, patios, gazebos, awnings, balustrades, columns and more. It's your home to design as you see fit!
We can't wait to see what you've done with your beautiful outdoor spaces!