Can You Get Car Finance with Bad Credit?
You all know how important it is to have a good credit history, but what if you have a bad credit score? Today Robert Smoker will help us better understand all the aspects of this topic.
Credit scores are the new currency when it comes to financing the more expensive things in life. Mortgages, car finances, credit cards and so many more rely on your credit history. You're judged on your past and that makes it difficult to acquire the things you need. A car isn't a cheap purchase. It's going to create a void in your pocket and might even put a strain on your finances if you don't plan it right.
That's why car finance is an efficient way of having the car you need, at an affordable price. But, it all comes full circle – meaning car finance companies will be looking at your credit score to see if you can be approved for car finance. If your credit score is not great or you've never built a credit profile to being with than you may feel out of luck. However, there is a way.
Bad Credit Car Finance Options
Rebuild your Credit: Dependent on how quickly you want a car, you could focus on building your credit score to one that makes you an ideal borrower. Remember, when lenders and financers look at your application, they're looking for evidence of your reliability. Analysing your credit score and history to see if you're going to be able to meet monthly repayments. If you can afford to invest your time in building a credit profile that makes you a good candidate, do it. If you can't wait for that car, there's a way.
Personal Loans: A personal loan is an ideal way to secure a car, without investing time into building your credit score. But, with every loan, it is important to understand what you're getting and especially to only take out a loan that you can afford to repay. You need to know all the types of loans available, there are so many on the market that range from low to high 'risk' – so, it's important to know what you're investing in. After all, borrowing money is no small thing.
Types of Personal Loans
Payday loans, bank loans, guarantor loans, high street lenders, what do they all mean? Well, it's important to know what you're signing up for, especially if you have bad credit. When seeking a bad credit, car finance loan there are two key things you should look for;
A low interest rate/representative APR
Unsecure or Secure
Obviously, it goes without saying but most lenders aren't going to just hand over money without asking for something in return – that's not how business works… They need to make a profit on the cash they're lending out. So, look for low interest rates because that means that what you do have to pay back, won't be as high as other lenders.
Bank loans are dependent on your credit score, better credit score, better interest rate – that's if you even qualify. Payday loan companies have high representative APRs meaning you'll be paying back a lot more than you borrowed, with a shorter window to pay it in. Guarantor loans are loans that rely on someone to support your application. They typically have lower interest rates and a longer repayment time. However, you do need to provide your guarantor (between the ages of 18-78, with good credit) with your application. They must sign on and agree to cover any monthly repayments you miss – and finding someone to agree to that isn't always easy.
So, all loans have their pros and cons. But, for bad credit loans, guarantor loans are often a much safer and smarter option, due to their lower rates and, most of the time, applicants qualify for the loan. The difference between an unsecure loan and a secure loan is that one is secure against your property or possessions, and one is not. A secure loan could mean your property will be up for collateral and you could face repossession, however an unsecure loan does not come with that risk. Secure loans typically are for larger amounts whereas an unsecure loan is up to around £15,000, in most cases.
How to Get Car Finance with Bad Credit
Bad credit isn't an issue with a payday or guarantor loan. If you can't wait to rebuild your credit score before you purchase a car, car loan finance with an unsecure loan is a smarter way to invest your money. However, be wary of payday loans as they typically have higher interest rates. Of course, you should never take out a loan that you cannot afford to repay. Below is an example of lending money through a guarantor loan, displaying the costs and APRs.
Example for Bad Credit Car Finance UK
Let's imagine a car valued at £5,000. Based on what most leasing or car finance companies offer, you would be on a 3-5-year lease;
To borrow £5,000 over 3 years, monthly repayments would cost £242.01, with an APR of 48.9% fixed.
A car, at around £8,500, would have monthly payments of £326.54. Spread over 48 months. At a lower rate of 39.9%, again at a fixed rate.
If you've seen other deals and loans with a far lower interest rate, it may be because they are loans for those with good credit. This higher rate is due to a poor credit score. Unfortunately, there are not as many fair rates out there for bad credit car finance. This advice guide is specifically for car finance seekers with bad credit.
Here are some of the fairest APRs of guarantor lenders, for medium loan amounts, available on the market. As listed on Readies.co.uk website: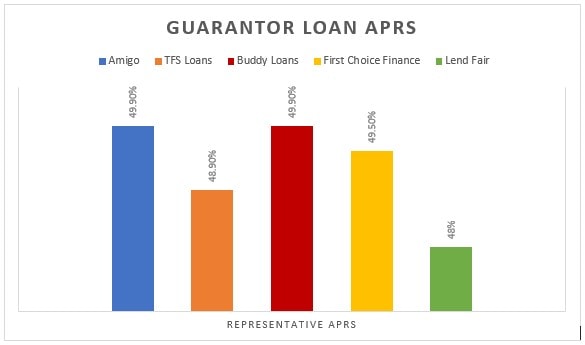 Paying a loan off gradually improves your credit profile. If you have a poor credit score, a car finance loan could help you improve your financial opportunity for the future, and get some fairer rates on loans, mortgages and credit cards in the future.
Your Car
Simply find the car you want (and can afford), and use any guarantor lenders' loan calculators to see what you could borrow. Purchase your car with your personal loan, and begin the monthly repayments. The car is yours and you only need to worry about repaying your loan each month. Whilst payday loans may seem like an attractive option, they typically have a lot higher interest rates to be repaid over a shorter period. So, always look around before deciding which loan to take out.
The Verdict
If you've got bad credit and need a car ASAP, you've got options – so no need to worry. It's important to always seek independent financial advice before taking out a loan. The most important thing to realise is that you bad credit will not affect your application for payday or guarantor loans. However, they have higher APRs than other personal loans available on the market. If you have bad credit but are financially stable, guarantor loans become a smarter and safer way to borrow money. Payday loans are costly alternatives. Cash buyers may be able to haggle the price of the car down and it's a fairly simple process.
Although guarantor loan rates aren't everyone's ideal, however, they are one of the best ways to borrow money when you have bad credit, but are financially stable. The reason guarantor loans are mentioned so much is that they are a better way to borrow money for those with bad credit, without paying huge costs on top of your loan. Always seek independent financial advice before taking out a loan. Taking out a loan you cannot afford can cause serious money problems.
Author Bio:
Robert Smoker, the CEO of TFS Loans, has an extensive work history within the finance sector. Having worked with a prestigious Private UK bank for over 36 years, Robert has had many head and executive financial roles under his belt since the late 70s. His extensive knowledge of the financial and loans sector carries into his writing, creating content for financial blogs and more.