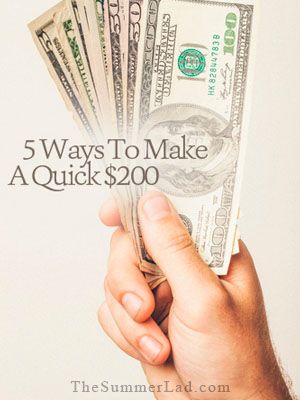 5 Ways to Make a Quick $200
You can make 200$ quickly and easily, if you use some creativity and make an effort. Try these 5 ways first and come up with 5 more afterwards. Earning 200$ in a short amount of time might be an exciting challenge you could deal with on purpose from time to time to ameliorate your financial situation or a difficulty you naturally face, but can get rid of.
Sell Some of Your Belongings
Most people own piles of stuff that they do not need, while someone else is looking for some of it. You could combine getting rid of your clutter with earning some cash. Make a thorough selection, take some good pictures and post them on eBay or Craigslist. Turn it into a bi-annual routine.
Get a Part-Time Job
Your earning potential is one of the aspects you should value the most. You might already have a full-time job, but you can always work a few extra hours afterwards or on the weekends. If you know any foreign languages, can write or translate, using these skills can be a great way to earn some money. If you don`t – give a service industry a try. Babysitting is an option too.
Qualify for a Credit Card Rewards or a Bank Bonuses
Whether this option is available to you depends on your bank and your credit card type and usage. Contact your bank and find about those things out right away.
Use Your Savings
Yes, this is bad, but what if there is nothing else you could do? This suggestion is not for those who do not save up anything and put nothing aside. However, it is time to start doing so, because having some savings is very important. You need to know that if something happens, you have some extra resources.
Borrow from Family or Friends
Knowing that you can rely on your dear ones is a relief. This might be the last option to consider, but even just realizing that it is there can help and soothe your anxiety. Make sure to borrow from someone who definitely has some savings instead of asking a struggling fellow to help you out.