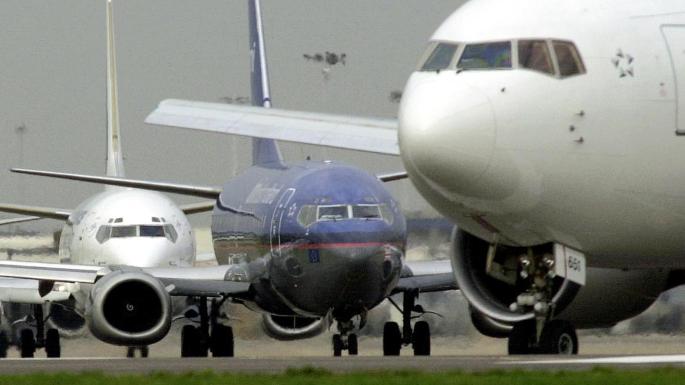 Gatwick eyes second chance on new runway
Gatwick will make a fresh pitch for a second runway as the airport says that for the first time it had carried more than 44 million passengers in a year.
Britain's second biggest airport sought to exploit possible indecision over the expansion of Heathrow by confirming that its own proposals remained "financeable and deliverable".
The airport's annual results showed passenger numbers rose by 3.2 million or 7.7 per cent in the last financial year, to 44.1 million. The overwhelming majority — almost 37 million — travelled on short-haul routes between the UK and mainland Europe, it said.
However, the airport insisted that growing numbers of travellers were taking advantage of an expansion of long-haul flights to the US and the Far East, shedding its traditional image as a "bucket and spade" airport.
Gatwick announced that a new route between London and Taipei would be operated by China Airlines from December. It would bring the total number of long-haul routes to 60.
It adds to the recent expansion of "budget" long-haul routes operated by the low-cost carrier Norwegian to destinations such as North America, Singapore and Buenos Aires.
Gatwick insisted that the expansion underlined its credentials as a viable alternative to Heathrow, which takes the vast bulk of Britain's business travellers going to economically important destinations in the Far East and Middle East.
The lack of long-haul routes out of Gatwick was one of the reasons given for choosing to expand Heathrow over the West Sussex airport when the government made the decision last year.
However, critics have speculated in recent weeks that the government may be softening its line on Heathrow, particularly with key cabinet figures such as Boris Johnson still opposed.
Jeremy Corbyn, the Labour leader, is also a strong critic of Heathrow and could choose to make the expansion process difficult for Theresa May's minority government.
Ministers insist that there is no doubt over the Heathrow plans. This week, Lord Callanan, the new aviation minister, used his first speech to back Heathrow expansion and say that "unless we get this runway built", Britain's airports would continue to fall behind competitors elsewhere in Europe.
Nevertheless, Stewart Wingate, chief executive of Gatwick, said it remained a viable option "if Heathrow stumbles".
"We don't want to get embroiled in the problems of Heathrow; that's a matter for them and the government," he said. "For Gatwick, the homework question that was set for us was can you successfully build long-haul routes, and we are demonstrating we can do that.
"We are happy to go ahead and build a new runway at Gatwick because we can see the demand from passengers. We would build in addition to Heathrow or, if Heathrow stumbles, instead of Heathrow."
The airport said that figures to the end of June, after its year-end, showed it had broken the 45 million mark — a record.
Pre-tax profits were down from £141 million to £131.8 million due to higher operating costs. The airport invested £272 million in the year, including a huge new bag drop area for Easyjet, security gates and an upgraded VIP lounge for British Airways and Virgin Atlantic.
Heathrow plan could still fail
The airport commission's verdict on Gatwick could not have been clearer (Graeme Paton writes). Sir Howard Davies, its chairman, rejected its bid for a second runway on the grounds that it would be more beneficial to the Spanish and Greek tourist industries than the British economy.
"About 70 per cent of its tourist passengers are Brits going to the sun," he said. "Sadly, relatively few residents of Marbella and Corfu come here for their summer break."
Two years on, and eight months after the government accepted his recommendation to expand Heathrow, Gatwick is refusing to give up. Yesterday the airport insisted that it was a viable option by announcing it would soon operate 60 long-haul routes. This includes newly added destinations such as Taipei, Singapore and the Chinese cities of Chongqing and Tianjin.
The government is committed to Heathrow, with the national policy statement that paves the way for a third runway proceeding through parliament. This week, Lord Callanan, the aviation minister, used his maiden speech to say it was vital to prevent Britain's biggest hub sliding behind European rivals such as Paris, Amsterdam and Frankfurt.
Doubts linger, however. Lord Adonis, chairman of the National Infrastructure Commission, warned the project was threatened by a hard Brexit, with private investment in big projects off the table unless Britain maintained its EU links.
Parliamentary uncertainty also poses problems. If Theresa May falls, the arch-Heathrow opponent Boris Johnson could replace her. And Jeremy Corbyn may make things difficult for the policy.
Heathrow's attempt to build a third runway has collapsed twice before over the past two decades.
With the need for extra airport capacity in southeast England now at critical levels, Gatwick believes it is in a strong position to capitalise if Heathrow fails for a third time.