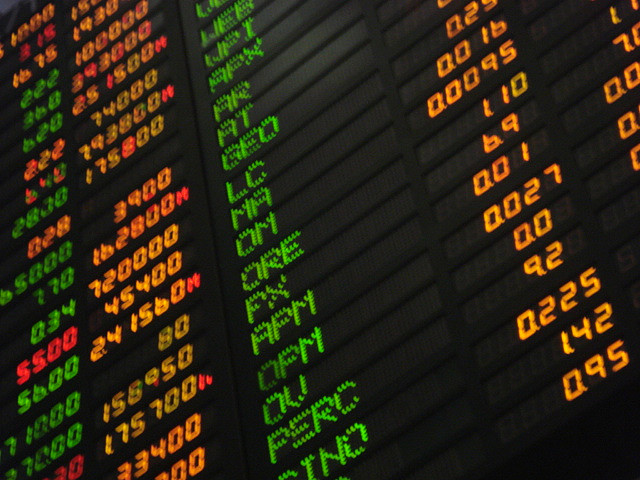 London Stock Exchange lives to fight another day
It was an interesting day for the London Stock Exchange Group to direct investors' gazes to the sunlit uplands. As the owner of LCH Clearnet, which commands a huge market share in clearing euro-denominated derivatives, the LSE has been in the eye of the Brexit storm.
As the government was searching for a blank sheet of vellum to scribble a DUP-friendly Queen's Speech upon and the EU patiently waited for Brexit talks to start, the LSE held an investor day.
The LSE's tie-up with Deutsche Börse toppled over in March, although Xavier Rolet, the LSE boss, has insisted that it wasn't Brexit that put paid to its ambitions, but rather a demand from European regulators that the combined group sell its Italian trading platform.
Mr Rolet reiterated his warning over the risk of the EU forcing euro clearing back to the eurozone, arguing that it would leave an "illiquid rump" that would simply cost customers more.
But he was also quick to point out that the LSE would be fine either way: "This is fundamentally an issue for customers and not for the LSE. Whatever the outcome of the euro clearing debate, we are well positioned to react and to take advantage of opportunities in this market."
He said that the LSE supported another option being looked at by Brussels: so-called enhanced supervision, whereby the EU has a direct say in regulating a clearing house in London.
More prosaically, it expects to increase its gross profit margin and cut costs over the next two years, shrugging off the Deutsche fallout.
It also said it would cut costs by £50 million annually until 2019, while operating expenses would remain stable at about a 4 per cent increase. Despite Mr Rolet's best efforts, LSE's shares dipped 55p, or 1.6 per cent, to £3.99 yesterday, leaving them up a third over the year.
Elsewhere among the blue chips, Johnson Matthey was the best performer as Credit Suisse told clients that the catalyst-maker was now its preferred investment in the sector over Johnson Matthey's Belgian rival Umicore. The scribblers reckoned that "sentiment is at a trough" and that the fall from grace of diesel cars, an important driving force for manufacturers of catalytic converters, would hit the value of the shares by 10 per cent at most.
On a becalmed day, the energy giants were attracting some interest as traders gambled that the crude market had bottomed. Royal Dutch Shell edged up 33.5p to £21.85, while BP put on 3.1p to 470.9p.
The goldminers were under pressure as a rise in US interest rates looms. The Federal Reserve meets tomorrow and economists believe it is almost certain to raise the base rate, given the recent fall in unemployment. Higher US interest rates spell bad news for gold — and goldminers — because they strengthen the dollar and diminish the appeal of holding a non-interest bearing commodity. Randgold Resources was 145p lower at £74.55, while Fresnillo, a silver-and-gold miner, was down 84p at £16.41. Antofagasta was 14p lower at 811p.
Micro Focus, the software company, and Sage Group, which makes accountancy software, were among the biggest blue-chip fallers, taken down by a pan-European tech sector that marked its worst day since the post-Brexit sell-off a year ago. Micro Focus was down 95p at £24.04, while Sage fell 12.5p to 685p.
Natural resources: Acacia Mining heads down
Things have gone from bad to worse for Acacia Mining. The London-listed goldminer has been locked in a costly dispute with the Tanzania government.
First Tanzania banned the export of gold and copper concentrate. Yesterday it accused the company of operating illegally, having previously accused Acacia of shipping gold out illicitly to dodge taxes.
Acacia denies the accusations. If the scale of the alleged illicit exports was correct, then Acacia would be one of the world's largest producers, a fact it would have somehow managed to conceal from its auditors and shareholders.
While Acacia is looking elsewhere, it relies on the east African country for all of its production. The company had cultivated a good relationship with President Kikwete but the election in 2015 of John Magufuli, dubbed the Bulldozer because of his uncompromising manner, marked a deterioration in the partnership with ithe country's largest corporate taxpayer.
Shares in Acacia slumped more than 13 per cent, off 39p to 261p — half the level before the dispute flared up in March. Later that month it called off merger talks with Endeavour Mining of Canada.
Wall Street report
A technology sell-off on Wall Street dragged down all of the major indices. The Nasdaq fell 32.45 points, or 0.52 per cent to 6,175.46. The Dow Jones industrial average fell 36.3 points to 21, 235.67 and the S&P 500 slipped 2.38 to 2,429.39.