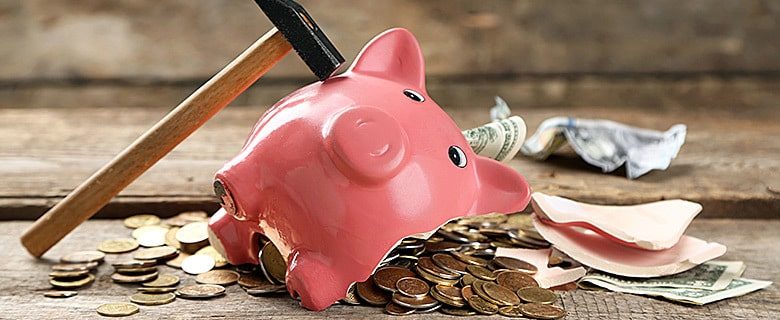 Alarm Bells – 5 Actionable Tips for Dealing with a Financial Emergency
A major unexpected expense can cause panic, fear, and dismay when you are financially stretched and don't have the funds to cover your costs. Many households don't have an emergency fund so something as simple as a faulty car part can make or break the monthly budget. When a financial emergency hits, it is critical to take a calm and considered approach to avoid digging yourself into a financial hole in the future. We have put together five steps to help you take control:
Borrow Money Sensibly
One financial emergency can have a snowball effect if improperly handled. If you don't have the money to cover the shortfall this month, chances are that you won't have the cash to spare next month either.
If you are in this situation, don't panic and fall into the trap of taking out high-interest loans with inflexible terms. The steep costs that apply if you fail to make a payment make it extremely challenging to get back in front. This is why people so often find themselves in a cycle of making minimum repayments while the overall repayment amount increases. Instead, look for payday loan alternatives like a no-interest or low-interest online loan with flexible payment terms that you know you will be able to meet.
Assess Your Expenses for the Month
Take a moment to sit down and work out what expenses you have this month. Mapping out all of your outgoing costs will help you to plan, prioritize and move forward. Break your expenses down into food, housing, transport, utilities, and incidental expenses. Try checking your bank statements from previous months to make sure that you don't forget anything.
Talk to Your Providers
Now that you have calculated what your expenses are this month, go through and contact each creditor and service provider that you have listed. If you are proactive and show that you want to complete your payments, most companies will allow you to defer payments or agree to a flexible payment plan. This way you can avoid late fees and the stress of bright red reminder letters in the mail. It is important not to let these bills stack up, as it will become harder and harder to pull the money together to pay them. So, once you have negotiated with providers, stick to the plan!
Live Lean This Month
Are there any incidental expenses that you can cut out?  Maybe you can reduce your grocery bill by $20 a week by introducing meat-free Mondays, or push back your haircut to the following month. Try cutting out takeaway food, borrowing DVDs from the library rather than heading to the movies, and walking or cycling when possible to cut down on fuel. Reducing your expenses for the month may be enough to help you move past the financial emergency that you are facing, or at least have a small amount of extra money to reduce debt. At the end of the month, reassess and see what changes worked for your family. Maybe they can become permanent money-saving habits.
Plan and Budget for the Future
Once you navigate your way through your financial emergency and have a plan in place to get back on your feet, it is the perfect time to overhaul your budget completely. By taking small steps to pay off any debt, and then put aside some money for future emergencies, you will feel secure and in control.
A financial emergency can seem like an insurmountable challenge. However, with some careful planning and consideration, you can use it as an opportunity to get your finances back on track for the future.