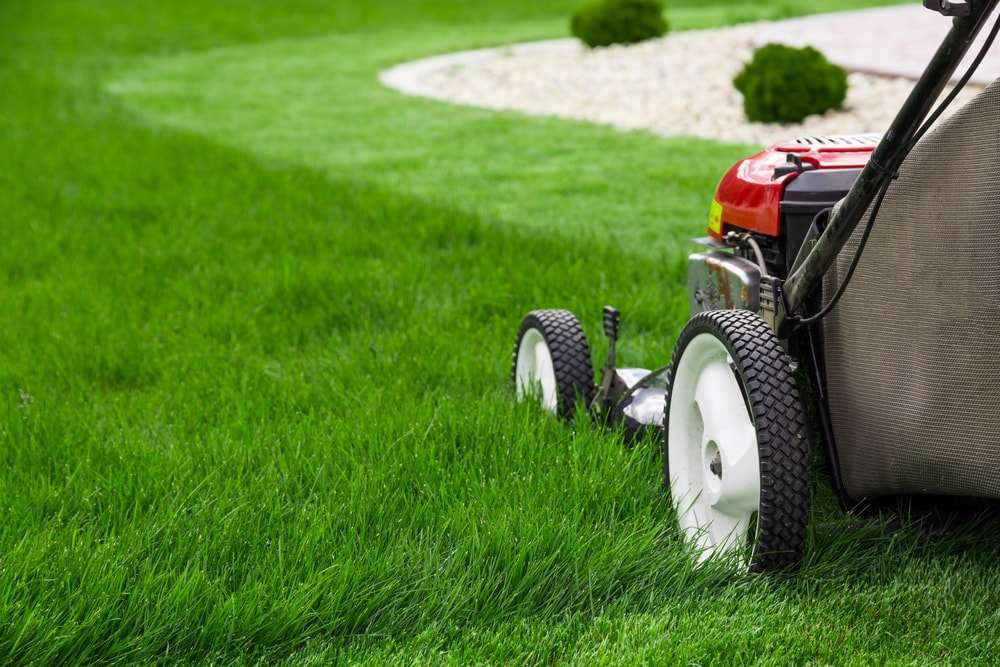 How to Get Your Lawn Mowing Business Going?
As in all businesses, if you want to get into the lawn mowing business, you need to know all about the business. You should be knowledgeable in every aspect of lawn care and mow in particular. It is essential that you learn how to properly do the job so that you will have repeat customers.
Build Trust
You also have to determine that you are trustworthy and dependable. Always keep your scheduled jobs and talk with your customers to see what they expect from you. If you have other people working for you, train them to be good workers and see to it that they do their jobs well.
Get Certified
But before you can start your Lawn Mowing Business you need to take care of a few essential things needed for your business. First and foremost is to have it licensed so that you can work legally. You must have all the paperwork in order before going into business to guard against unnecessary delays.
Get Advertising
Then you will need to take care of advertising your business to get customers. Send out flyers and start a website for your lawn mowing business. Advertise on the internet; it is very convenient and more and more people are using it to look for answers to their needs.
Get Diversified
As each person has different needs, your clients will also require various services on their lawns. You must be able to provide what they need, and for this, you will need different types of equipment. While your lawn mower will work just fine for residential clients, business clients might need several other sorts of stuff, and you will have to spend a certain amount for it.
Budget for Growth
A more important vehicle might also be needed to transport your equipment, but you will recoup your investment in no time at all once you get your lawn mowing business going. Start saving a little each week as soon as possible so that as your business grows, you can fund it. Just be sure to have the equipment covered by insurance just to be on the safe side.
Here is the basic equipment needed to start your lawn mowing business.
A good Reliable Pickup Truck
Stock your truck with these supplies:
Spare set/sets sharp blades.
Tire repair plug kit.
Small air pump. (with cigarette lighter adapter)
Full set of tools. (Home Depot sells a good set of Husky tools in a case for about $120)
Spool of Trimmer line. (Get the good stuff. Cheap line breaks.)
Envelope for gas receipts and expenses.
Ledger to record expenses. (Most of your costs are tax deductible.)
Landscape Trailer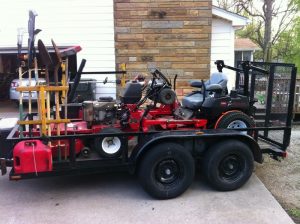 You will need a trailer that is at least 8′ long. An 8′ trailer can hold all of the equipment on this list. A 12′ trailer would be better though because it does allow for adding more equipment as you expand. You will need a two trimmer rack and a blower rack for the trailer.
A lawn business owner who is a master of marketing but slow at mowing lawns (or currently employing staff who are slow at mowing lawns) will just not make money. Likewise, you can be the fastest lawnmower in the world but fail in business because you were unable to generate any customers.
Let's look a little more at these two crucial buzz words; marketing and productivity. It is essential to focus on both and not to become a master of one while neglecting the other.
All the other details about starting a lawn business such as getting licensed and insured are trivial really. If you can get these two things right your success will almost certainly be assured.
Marketing – Maximize Opportunities to Make Money
Firstly, you need to have a constant stream of income coming into your lawn business at all times. For lawn care business operators this means having good routes with a slowly increasing number of accounts. While some lawn business owners buy accounts, most depend on marketing to bring in the clients that they need.
Your marketing system will have to generate leads, convert these inquiries into new accounts and then encourage loyalty and referrals over the long-term.
The starting point for marketing should be researched so that you can understand who your customers are, what they want and what kind of promotions they are likely to respond to. You need to meet market needs by coming up with a brand that is appealing and services that are in demand.
Then you can test advertising strategies, offers and sales approach until you hit on winning combinations that produce results. You also have to become good at doing business in a way that allows you to stand out from the competition.
Marketing can be a complicated beast to work out. Just break it down into parts though and work on getting every step right. If you keep making changes and experimenting, you will come across a system that works.
Productivity – Minimize Money and Resources Going Out While Still Providing a Quality Service
Secondly, you need to focus on daily operations and productivity. You need to be able to get tasks done efficiently to make money. You have to know how to make the most of the work that is available to you.
This is done in the office, out on the road and in the yards of your clients and will involve systems to manage and track the performance of every aspect of your business.
You need a reliable computer system and dedicated software that can handle accounting, scheduling, estimating and other essential functions.
You will need to understand how to plan routes that are efficient and save time and gasoline. Equipment like a mobile phone, GPS and route planning software can help you to be more organized and keep control.
You will also require ensuring that your productivity out on the job is maximized. You need to have the right gear, and you need to know how to maintain it and how to use it correctly. If you have employees, then you will need to have systems in place to monitor their productivity.
The Right Balance – Slow Growth Is Best to Keep Things In Balance
Success in the lawn mowing business is all about becoming good at marketing and managing an efficient operation. You need to maximize cash flows coming into your business, and you have to give your clients a high standard of service while minimizing the time and costs that are incurred in the process.
Types of Lawn Mowers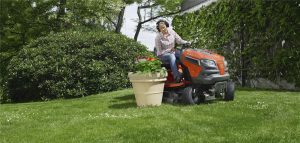 Lawn mowers are primarily isolated into two sorts: the reel mowers and the Rotary mowers. Their decisions change from push mowers to zero turn mowers, from riding lawn mowers to self-moved. Reel mowers are the conventional push mowers otherwise called chamber mowers; they utilize the utilization of sharp edges that turn in a level pivot known as reel; it enables you to cut your lawn considerably shorter than the rotary mowers. The present push reel mowers are lighter and simple to utilize not at all like the old conventional overwhelming push mowers. They are calm and clean (control mowers tend to produce ten times more fumes for fuel consumed as cars). Push mowers are in reality superior to anything gas or electric fueled which are known to harm grass closes. They cut grass perfectly simply like a couple of scissors.
Methods for a motor control rotary lawn mowers in actuality; they utilize a cutting edge that turns about a vertical pivot. These are known to cut high grass and shrubs. There is gas controlled, electric fueled lawn mowers and self-impelled. These rotary mowers all have diverse capacities making them not quite the same as each other. Gas and petroleum worked are known to be all the more capable and less expensive regarding vitality utilization, however many individuals tend to bashful far from them since they are muddled amid upkeep and fuelling. The electric mowers in actuality are more dependable and easy to work. Self-pushed resembles robots in execution. They are helpful for expansive business yards.
Other than the essential function of mowing, lawn mowers accompany extra esteem included tasks that merit paying particular mind to before any buy. Mulching and stowing are among the most sorts after additional highlights. Mulching consists of the lawn mowers cutting grass and driving it off at the back as it keeps on mowing, while at the same time packing consists of the mowers fitted with compartments that fill in as sacks to store the grass as it cuts. The cutter clasps the grass and pushes it in the chamber for later transfer. The costs additionally contrast in model, estimate and starting with one store then onto the next. It is essential to observe every one of these highlights.
Lawn mowers have made the craft of cultivating straightforward and straightforward to keep up. Many home change stores stocks every one of these mowers and it is vital to either physically visit the stores or glance around online to examine before making any buy.