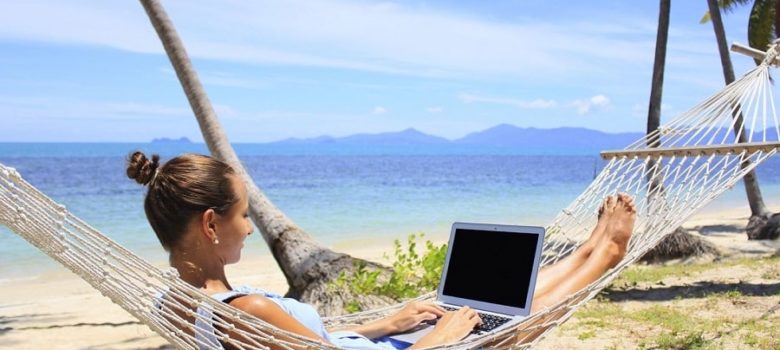 3 Amazing Tropical Paradises for Digital Nomads
Some people don't mind the traditional 9 to 5 lifestyle. They're happy to go to work, collect their paycheck, and spend time with family and friends outside of work. They might travel once or twice a year for a few weeks and that's enough. But some people just can't live like that and they want to spend all of their time exploring the world and finding amazing new places. If that sounds like you, the digital nomad lifestyle is perfect for you.
If you can find ways to make money on the move, you can fund your travels and jet off around the world. When you are looking for places to go, there are a few things to consider. Firstly, you need to find somewhere that fits your budget. You also need somewhere that you can work effectively. But most importantly, you need to find somewhere that offers everything you want from travel. If you're the kind of person that likes to live a life of luxury, you should try some of these tropical paradises that are perfect for digital nomads.
Thailand
Thailand is a popular destination for backpackers, but it's also great if you are a digital nomad. One of the best things about Thailand is the price. The cost of living is so cheap out there so even if you aren't earning a huge amount of money, you can still get by. Places like Koh Panang, famous for its full moon beach parties, are ideal. Half of the island is protected as a national park, so you will find some of the most beautiful landscapes in the world here. It's also a center for learning about yoga and meditation techniques, so if you need a well earned break from the fast paced business world, you can take a few days out to relax. A lot of people pass through here, so you can enjoy the beautiful white beaches and meet plenty of other digital nomads and expats at the same time.
The Bahamas
The Bahamas is a collection of over 700 islands that host travelers from all around the world. It's a popular spot for people that are on vacation, but you will also find a lot of like minded digital nomads as well. There are some great apartments available in spots like Albany, Bahamas that are ideal for digital nomads. These complexes come complete with amenities like golf courses, fine dining restaurants, and spa and fitness centers. It's a great base for your business activities and you can live a life of luxury while you work. When you are not working, you can spend some time exploring the islands and relaxing on Pink Sands Beach or swimming with dolphins on Blue Lagoon Island. If you want to explore the untouched beauty of the Bahamas, head over to Lucayan National Park. This amazing national park is filled with mangrove swamps, beaches, and pine forests that play host to all sorts of wildlife. But the real beauty lies underneath the island in the complex network of underwater cave systems that you can go diving in.
Mexico
Mexico is a great country to visit but some of the more touristy areas aren't great for digital nomads. However, if you head over to the Oaxacan Coast (pronounced wa-hah-kah), you'll find that it's perfect for somebody that wants to work while they travel. It's a little off the beaten track so you don't get as many tourists as you would in places like Cancun. This gives the whole area a peaceful, tropical feel which is ideal for digital nomads that want to get away from the hustle and bustle and get some work done. Certain areas of the coast, like Huatulco, are designated ecotourism hotspots, which means that a lot of the damage normally caused by tourism is limited. This means that you still get the benefit of a well connected area, but it retains its natural beauty. It's a popular destination for surfing so if you like to stay active in your downtime, you'll love it here. The Hridaya Yoga Academy is the ideal place to relax and wind down after a long week of hard work. It's a great place for history lovers as well because the area is filled with archeological sites. If you head for Monte Alban, you will find the ruins of some beautiful temples and some stunning views of the surrounding landscapes.
If you want to live the digital nomad lifestyle and travel to some of the world's best luxury destinations while you work, these are some of the best spots to add to your bucket list.