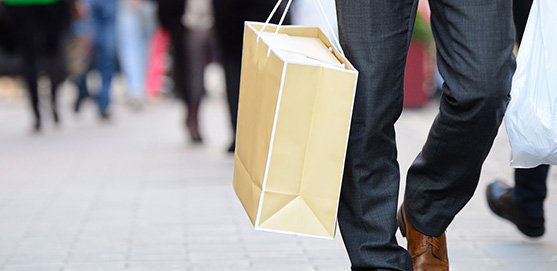 Get Intu your shopping with the perfect day out for £118
Have you ever wondered what the secret is to the perfect shopping day out (other than not going at all, which would be my preference)?
According to Intu Properties, the biggest listed owner of malls in Britain, the ideal shopping day starts at 10.28am on a Saturday and lasts for three hours. It should include visiting nine shops, buying five items and queueing for no more than seven minutes in any store. It should end with a meal out and the total cost of the day should be £118. At least that's what Intu concluded from a survey of 2,000 visitors to its malls on their "preferred shopping habits".
Frost samples a new role
David Frost's decision to resign as chief executive of the Scotch Whisky Association after less than three years to return to the Foreign Office as special adviser to Boris Johnson is not a huge surprise. His background as a former ambassador who speaks six languages made him almost overqualified for the job of running a trade association (even one as excellent as the SWA). Only a couple of weeks ago he appeared on Any Questions? on Radio 4 alongside the Scottish secretary, David Mundell. Perhaps Mr Mundell put in a good word for him with his cabinet colleague.
Check out these sausages
Debbie and Andrew Keeble, the Yorkshire farming couple whose HECK range of sausages takes its name from the family motto "what the heck", are seeking to raise awareness of testicular cancer after their son Jamie was successfully treated for it this year. Next month the couple's Chicken Italia HECK sausages will be renamed CHECK to encourage men to carry out regular checks on themselves. They hope to raise £25,000 through sales of the £2.99 CHECK sausages in all the main grocery stores.
A blue plaque for Green 
Of all the attacks on Sir Philip Green, left, for his rapacity at BHS, this surely must be the cleverest. A faux blue plaque has been erected outside the former BHS store in Swansea that claims: " 'Sir' Philip Green between 2000-2015 paid himself from here £586m. Pensions deficit to be paid by the taxpayer £571m." I hope that the retail tycoon is developing a thick skin.
Having grown up in a family of Royal Navy sailors and starting off in the maritime industry, Jeffrey Mountevans, the lord mayor of London, knows all about steadying choppy waters.
Tonight he will urge City colleagues to do the same and embrace Brexit. Despite telling them six months ago that Britain was "better off in", he will say at London's Mansion House: "Make no mistake, Brexit will be successful".
Lord Mountevans, the grandson of one of Robert Scott's colleagues on the ill-fated trip to the Antarctic, will call on the country to pursue a "bold bright, buccaneering vision of the future". The father of two, who began his career at Clarksons, a shipbroker, will also praise the City for cleaning up its act and becoming "more professional".