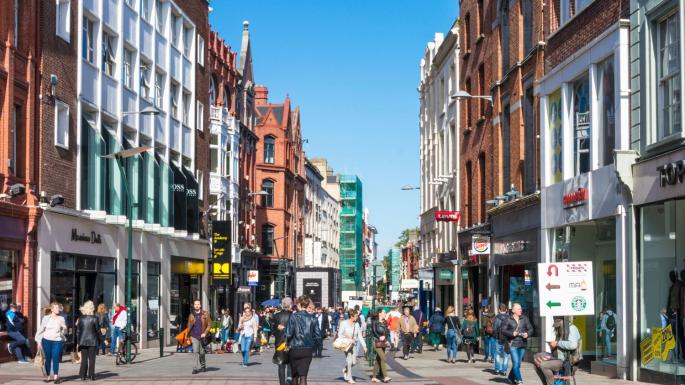 Shopping centres get shrinking feeling
FUTURE OF RETAIL: The only serious growth is in online shopping, while high streets and malls must adapt to survive, writes Grainne Rothery
Planned closures of hundreds of US stores by several retail giants including Macy's, Sears, Gap and JC Penney reflect a general trend in the market: the decline of the shopping mall. Green Street Advisors has predicted that about 15% of America's 1,500 shopping malls will close over the next decade.
The store closures are being blamed in part on increased online shopping, which will account for about 15% of all retail sales in the US this year. Although online accounts for just 5% of overall retail sales in Ireland, it is a growing challenge for retailers here, particularly since the depreciation of sterling post-Brexit.
"That's when we saw it starting to bite and in each of the quarters since we've seen growth in the online business," said Thomas Burke, director of Ibec group, Retail Ireland. "The problem for a lot of Irish retailers is that the vast majority of online business is done with those who are either not present here in the market or are pure play online retailers.
"And it's the fashion end of the market where we're seeing most of the impact at this stage."
Given its current low share of the overall market, online shopping is expected to increase significantly. "If 5% of retail sales are online today, there's no doubt that's going to quadruple in the next decade," said David Fitzsimons, chief executive of representative body, Retail Excellence Ireland.
And this will certainly have an impact on what retail looks like in future. "There will always be a requirement for bricks and mortar for large retailers; however the footprint will diminish," said Lisa McGrane, director, retail agency at property adviser JLL.
"Smaller retailers are now considering going online-only as the start-up costs and risk are significantly reduced and they just have to pay a percentage to the big players such as Amazon."
So far, demand for space in Irish schemes and town centres has not been negatively affected, according to Neil Bannon, executive chairman of commercial property consultancy, Bannon.
"There's less space out there to let," he said. "We lease 47 schemes across the country so this isn't a Dublin-centric view. There's decreased vacancy in schemes all over Ireland."
McGrane described demand for space as steady, but not as solid as it has been. "Occupier performance has not been as positive in recent months, with limited depth from occupiers," she said.
Brexit is having an impact on UK retailer sentiment, said McGrane, and US retailers are struggling in Europe due to less seasonal markets.
Bannon pointed to the most recently published Central Statistics Office figures, which showed a 3.2% increase in volume and 0.9% rise in the value of retail sales in the year to March 2017. "Retail sales are going up but there's no more supply into the market," he added. "Other than online, there are no new shops."
In contrast, Fitzsimons believes Ireland is over-shopped and there will be reduced demand from retailers in future. "We've too much space," he said. "Towns are going to shrink in terms of their retail footprint over the next decade. They are no longer going to be places of commerce, they're going to be places of experience and hospitality and they need to be rethought."
McGrane believes provincial schemes will need to adapt. "The key focus for retailers is on the large M50 schemes, Dublin city centre, Cork, Limerick and Galway. It will be necessary for other centres to reinvent themselves to cater for local demand."
Stores will also need to be more innovative, by providing new facilities and services such as in-store cafes, nail bars and hairdressers, she said.
The cornerstones of successful schemes are likely to be convenience and experience. Food and beverage is one of the most buoyant sectors on the letting side. Discount retailers, food stores and fast fashion brands are also expected to continue to thrive in shopping and town centres.
"The prime centres are in a very healthy place," said Darragh Cronin, director, retail at property adviser, Savills Ireland. "With the other centres it really comes down to their asset management. Anyone who tries to sit still could face challenges. Everyone needs to adapt to the changing market which is more driven by food and beverage, leisure and experience, car parking facilities and access."
Burke is not expecting large-scale expansions among his members — well established Irish and multinational brands — in the short term.
"First, because there's no large requirement for it, but second, because there isn't a whole heap of available space out there either," he said. " There will probably be incremental growth over the short term."
Bannon is also expecting to see more interest from international brands. Interest from overseas retailers in Grafton Street, Blanchardstown and Dundrum has also picked up in this regard in the last six months, he said.
Rents in Dublin city centre and large schemes remain robust and rental growth is likely over the next couple of years, said McGrane.
A limited supply of space in prime locations should drive growth, she said. Provincially, however, there may be some stagnation apart from the large urban centres with critical mass.
Bill of brands
Brands opening, or signing deals for stores in the last 18 months:
Fashion: & Other Stories, Cos, H&M, Zara, Topshop (regear in Jervis centre), Superdry, Jack & Jones, Avoca, Penneys, Selected, Moss Bros, TK Maxx
Footwear: Dune, Skechers
Cosmetics: Urban Decay, Inglot, Benefit Cosmetics
Homeware: Ikea, Sostrene Grene, Homestore + More, Meadows and Byrne, EZ Living
Electronics/phones: Virgin Mobile, Click
Outdoor/sports: Cotswold Outdoor, Moutain Warehouse, Life Style Sports, Elverys Sports
Pharmacy: Boots, Superdrug
Stationery: Smiggle, Card Factory, The Works
Discounters: Aldi, Lidl, Iceland, Dealz
Food and beverage: Zizzi, Milano, Nando's, Carluccio's, Eddie Rocket's, Butlers Chocolate Cafe, Dante Pizza, Costa Coffee, Freshii, Chopped, Fallon & Byrne
Other: Victoria's Secret, Ann Summers, Pandora, KBC Bank, M&S Simply Food, Disney, The Fragrance Shop, Specsavers, Tiger