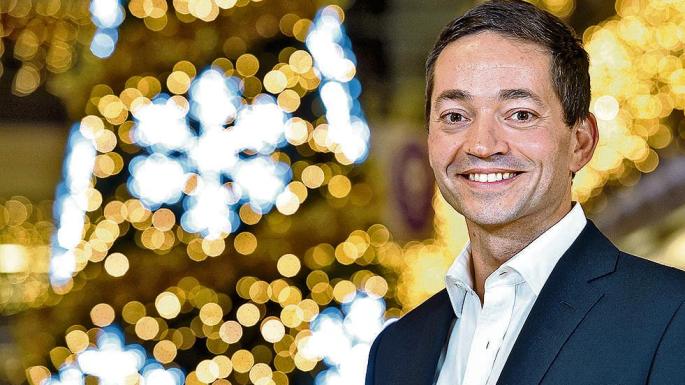 'We lend to a working mum buying nice stuff for her home and children'
Online sales have come a long way thanks to artificial intelligence, the Shop Direct boss says
It may be a sign of how far the banking profession has fallen in people's estimation that Alex Baldock prefers to be known as a former management consultant — once the career choice for clever people who didn't know what to do in life — than a former banker.
The chief executive of Shop Direct is actually both, having spent 12 years as a consultant then seven years at Barclays and Royal Bank of Scotland before becoming the surprise choice to head the online retailer behind the brands Very and Littlewoods.
"It always makes me smile slightly when I am described as a former banker, as I did 12 years as a consultant," he says. "It just so happens that I also spent seven years in banking." Quite an intensive seven years, though. He joined Barclays on September 13, 2008. Two days before Lehman Brothers collapsed.
"In my first week I was greeted by the sight of a grown man crying and running through a corridor and I thought: 'What have I got myself into here?' But there is nothing like a crisis to give you the opportunity to make fundamental changes. People tend to be more receptive in an emergency."
The timing of his arrival at Shop Direct four years ago may have been less dramatic than his banking debut, but the remit to make some fundamental changes was the same. Shop Direct is owned by David and Frederick Barclay, who also own the Ritz hotel in London, and can trace its history back more than 80 years to mail order businesses such as Littlewoods and Kays, in the north of England. Shop Direct may have traded continuously in its various iterations since the Second World War, but it entered this millennium facing losses and fierce competition from rivals such as Amazon and Asos and took a strategic decision to become a "pure play" online retailer.
Change was already under way when Mr Baldock was headhunted to bring a "crisper focus" to the business and its "online transformation".
"I like a turnaround to get my teeth into and where there is some latent strength to build on. This was a big business that had been singleminded about getting out of stores. It was a business of scale with four million regular customers. It had a supply chain stretching all the way from a factory in Shenzhen to a doorstep in Warrington, as well as financial services capabilities. All of that seemed quite promising raw material to manage an online transformation, and so it proved."
Mr Baldock, who studied modern history at the University of Oxford, said that all he had done was help to speed up the transformation. Three years ago 72 per cent of Shop Direct's sales came from catalogue transactions. Now, none do. It is a pure online retailer, second only to Amazon UK, with annual sales of £1.9 billion from its two core brands Very and Littlewoods. More than 60 per cent of its sales come from mobile devices.
The star performer is Very, which grew by 16 per cent, generating sales of just over £1.2 billion last year. Littlewoods is a mature brand but remains profitable. It has launched Veryexclusive for designer brands.
Last year Shop Direct reported a 20 per cent increase in its statutory pre-tax profits to £105.6 million, while its underlying profits rose by more than 40 per cent to just over £150 million. It was the fourth year of record profits and sales for a previously loss-making group and has further fuelled speculation that its wealthy owners will look to sell or list a stake in a business they have owned since 2003.
Mr Baldock is coy on this and, indeed, on any long-term intentions of the business's owners, whom he only ever refers to as "the family". "Clearly, the family takes a close interest in this business and it is important to them. I have found them incredibly supportive people who have given me every pound of investment that I have asked for. What I will say is I have so much on my plate to maximise the potential of this business and we are nowhere near done yet."
Mr Baldock said that there was no secret to Shop Direct's recent successes, other than the fact that "we help our customers have nicer lives and access to nicer things than they could otherwise afford".
The average customer of Very or Littlewoods tends to be a woman aged 25 and above who is less affluent but aspires to own brands such as Apple or Karl Lagerfeld and can do so using credit from the retailer. About 90 per cent of all Shop Direct's sales are on some form of credit and the FCA-regulated retailer is one of Britain's biggest non-bank lenders.
"We lend responsibly and we give people a choice," says Mr Baldock, who has securitised its large customer loan book. "We are lending to a working mum buying nice stuff for herself, her house or her children. She is not blowing it on a trip to Vegas."
Mr Baldock argues that the model works well because many top brands want to expand their customer base without heavy discounting. "When I went to California six months ago, Tim Cook [chief executive of Apple] was good enough to see me and I would like to think it was because of charm, but it is really because we, Shop Direct, can offer him something that other retailers in the UK cannot — a new customer base. He wants to bring the iPhone 7 to new customers, but he does not want to trash his brand with deep discounting to do it. That is the circle we can square."
Stocking products that people want to buy is not the only reason, apparently, why Shop Direct is attracting 800,000 new customers a year. "The key to all of this is artificial intelligence and that is why we are placing such a big bet on AI."
Mr Baldock, who seems more enthused talking about technology than about the latest catwalk trends, believes that Shop Direct is leading the way in big data and personalisation. This includes tracking what customers like to buy, giving them personalised web pages and offering the Very Assistant, an online personal shopper who can interact in a Whatsapp-style conversation.
Shop Direct is working with IBM Watson on its use of AI and Mr Baldock suggests that the company is able to stay in touch with its customers in a completely different way. "We can personalise our message and decide how often and what time of day to get in touch with individual shoppers and we can inspire them to buy what they didn't know they wanted.
"Personalisation is at the centre of everything we do and is probably the single most important contributor to Very's above-average growth rate."
For Mr Baldock, who is also working with Facebook and Google on digital marketing strategy, the challenge in using technology is "to stay on the right side of helpful and not be intrusive and creepy".
As it heads for what could be a record Christmas, he thinks that Shop Direct is getting the balance right. "It is not hard to see a situation where you will not need to go to Bond Street to get a better service than you can get from shopping at Very on your sofa.
"That is what we are aiming for and we are not going to rest until we have done so."
Q&A
Who is your mentor?
I've had many mentors from James Quincey, now No 2 at Coca-Cola, to Stephen Hester at RBS. Marcus Agius, former chairman of Barclays, has been most generous and sage with his advice.
Does money motivate you?
It helps me to provide for my family. I have a wife and four children — three boys and a girl aged eight to 13, so my house is not quiet.
Most important events of your working life?
Taking this job at Shop Direct, to play a part in a transformation that is not finished yet.
Who do you admire?
Field Marshall Bill Slim, the best battlefield general of the Second World War. He commanded the 14th army in Burma and wrote one of the best leadership books you will ever read Defeat into Victory. Ruth Davidson, the Scottish Tory leader, cites it, too.
What is your favourite television show?
The Sopranos. It is like Shakespeare on TV.
What does leadership mean to you?
You need to give people clarity of purpose and direction; inspire them to get the best of them.
How do you relax?
I am a sports nut. I love everything including running, gym, field sports, skiing, trekking. I am a passionate Chelsea fan and so are my kids. Their clothing was flammable until they were about seven as they were always kitted out in blue.
CV
Born: Surrey, November 1970 Education: modern history, Worcester College, Oxford
Career: 1993: consultant, Kalchas; 1998: consultant, Bain & Co; 1999: senior adviser in corporate strategy at BBC; 2000: independent strategy consultant; 2002: director, Prophet; 2005: corporate director, larger business banking at Barclays; 2007: commercial director, business banking, Barclays; 2008: managing director, Lombard at Royal Bank of Scotland; 2012: chief executive, Shop Direct
Family: Married to Amy Roberts, the garden designer; four children