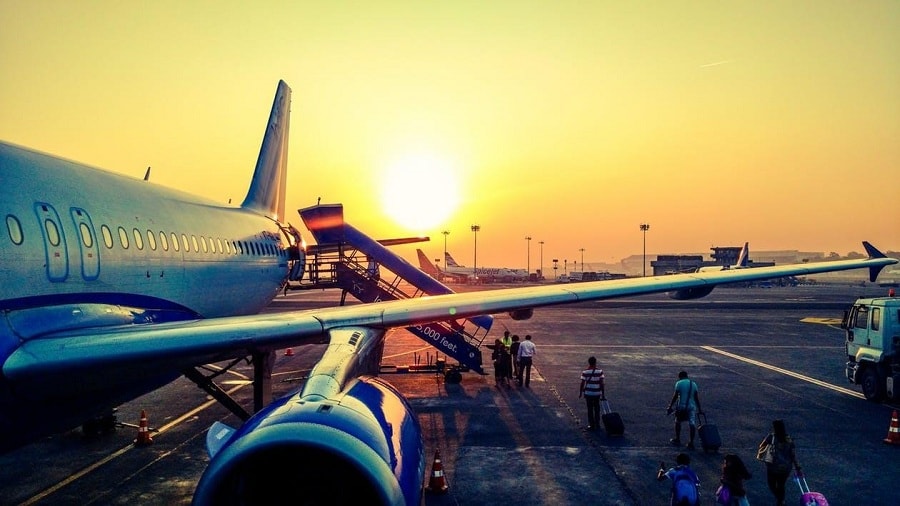 Tips to Save on Plane Tickets and Hotels – Travel Without Any Headache
Travel is expensive nowadays – thanks to inflation and rising gas prices.
According to the Bureau of Labor Statistics, airfare costs increased by 10.7% in March. Travel is on the rise when inflation is at its highest level since 1981. The prolonged conflict in Ukraine is exacerbating rising gas costs around the world. The cost of food is also considerably higher.
Despite this, according to the US Travel Association, 85 percent of Americans plan to travel this summer. If you're one of them, you should start exploring ways to save money on plane tickets and hotels using every tool at your disposal. That's because money is precious, and you need it to buy food, settle debts, build an emergency fund, pay insurance premiums, etc. Despite the rising costs, here's how to save money on vacation.
Flights
Opt for budget-friendly airlines
Allegiant Air, Spirit Airlines, and Frontier Airlines have a long history of customer complaints. However, budget-conscious travelers now have two more options: Avelo Airlines and Breeze Airways, which are relatively new inexpensive airlines.
Avelo, based in Houston, began operations in April 2021 and focuses on close-to-home airports. Based in Salt Lake City, Breeze Airways launched its maiden flight in May 2021 and has been rapidly expanding its route network. So you can choose these two airlines.
Book 4 months in advance
One of the best methods to get a good discount on a domestic ticket is to book at least six weeks ahead of time, while international flights should be scheduled around four months in advance.
Book your tickets by the first week of May if you want to vacation this summer. After that, airfares will continue to rise, making it more challenging to make an excellent deal for June and July.
If you postpone your vacation until September or October, you might be able to find a cheaper flight.
You can also save money by flying on different days of the week. Domestic airline fares, for example, are 13% lower on Wednesdays and 15% costlier on Sundays than the national average.
Take advantage of 'change fee' rules
Many of the COVID-related adjustments for airlines and hotels are permanent. Airlines have mostly eliminated the punitive change fees that have long been an annoyance for passengers.
Major airlines now enable you to change your flight for most domestic destinations without paying fees. On the other hand, change fees will mainly pertain to international flights. So consider that if you're planning a foreign trip.
The same is true for flights purchased with miles. Earlier, airlines used to levy a mile redeposit fee. But now you can use points to book flights directly with an airline and cancel without penalty.
The universal elimination of change fees could be an excellent chance to save money. Buy tickets early while they're cheaper. If your plans change, you can reschedule or cancel your reservation. You can still cancel and rebook at a lower cost if the price drops.
Hotels
Opt for a convention center hotel
If you want to stay in a busy city, a convention center hotel will be more affordable than a resort. Those urban centers are always trying to fulfill business demands and satisfy foreign delegates, and everything is too expensive in these cities.
Book directly from the hotel websites
Travelers should book rooms directly from hotel brand websites rather than third-party apps because that's where they may find rebates for things like AAA membership.
Explore combo packages
Look for packages that combine airfare and hotel to reduce the total cost of a trip. For individuals having itinerary flexibility, a summer trip can be postponed to the early-fall season, which is less expensive.
Choose budget-friendly destinations
Amidst inflation, travelers should choose less costly overseas travels, such as Mexico or Central America, rather than Europe, to save dollars. Choosing your destinations wisely can save money even if vacations are more expensive than previous summers.
Book suites instead of separate rooms
Suites seem to be more about extra space than ultra-luxe amenities, but booking one for a family trip might save money and keep you sane.
It may be less expensive to reserve a room that feels more like an apartment rental, with adjacent rooms and tiny living space, than to book two different rooms.
For example, two-room bungalows in Panama, meant to accommodate two parents and two children, start at $150 per day in mid-December, compared to single-room bungalows, which start at $200 per day.
Take Monday off
When it comes to three-day weekends, it's better to take Monday off instead of Friday. You can enjoy the cheapest night at a hotel on Sunday.
This is especially true if the hotel caters primarily to business travelers. Even in the top tourist destinations like Las Vegas, where mid-week deals are available, Sunday room prices are usually lower than Friday.
For example, Sunday night bookings at the MGM Grand Las Vegas start at $59, compared to $229 for Friday night stays.
Conclusion
Setting up price notifications on travel websites and apps can help you keep track of ticket and hotel pricing. You can also use peer-to-peer home-rental sites to save money on hotels.
Airbnb and HomeAway are great options for tourists who prefer not to stay in a standard hotel room. Renting a home with a group might be a terrific way to save in more ways than one.
Consider renting a vacation house if you're traveling with a small or large group. Splitting the expense of a two- or three-bedroom home, where you aren't obligated to eat out three times a day, can significantly affect your budget.